NEWS
Learn more about the device
Technology of Coal-based Direct Reduction Iron(1)
Source: internal company
---
1. Background Technique
1.1 Basic introduction
At present, there are mainly the following technical routes for direct reduced iron. Coal-based direct reduced iron and gas-based direct reduced iron, among them, gas-based reduction technologies include: COREX, Midrex, FINEX, HIsmelt, etc.Among them, coal-based reduction technologies include: tunnel kiln, RHF, rotary kiln, etc. Gas-based reduction technology can achieve large-volume industrial production. The comprehensive economic indicators are good, but the investment is relatively large. Coal-based reduction technology generally has low output and relatively low investment.
Based on the above reasons and according to the current actual situation, we believe that coal-based reduction technology should be selected first.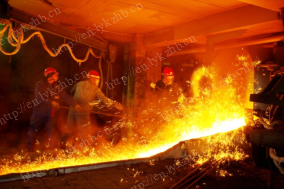 1.2 The advantages and disadvantages of several coal-based reduction processes
Process Category

Advantages

Disadvantages

Tunnel kiln

1. Mature technology
2. Obtain high-quality DRI, metallization rate ≥92%
3. Simple process
4. Raw material does not require briquette

1. Low degree of automation
2. When the degree of automation is high, the investment is larger
3. High energy consumption and high operating costs,Natural gas demand is about 160Nm³/T DRI
4. Silicon carbide tanks are more expensive
5. Large production area
6. Small scale of single production line

RHF

1. Mature technology
2. Less energy consumption and lower operating costs.Natural gas demand is about 120Nm3/T DRI
3. High degree of automation, environmentally friendly
4. Moderate investment
5. Fast and direct reduction, the reduction time is about 20-25Min

1. necessary laboratory research is required for specific raw materials
2. Low metallization rate and low product purity

Rotary kiln

1. Mature technology
2. Lower investment

1. Need to prepare oxidized pellets first
2. Strict requirements on coal
3. There should be no scale mill in the raw materials
Based on the above analysis, we believe that the RHF process should be more suitable.
1.3 Comparison of different direct iron reduction processes
Note: The following information is from a university in China
1.3.1 Comparison of energy consumption of different processes
| | | |
| --- | --- | --- |
| Process method | Energy consumption in kind | Equivalent energy consumption,kgce/t |
| Natural gas shaft furnace (HYL-ZR) | 300~350Nm3 Natural gas /t, 10.4~11.5GJ/t | 355.3~392.9 |
| Natural gas shaft furnace (MIDREX) | 350~400 Nm3 Natural gas /t, 11.0~12.5 GJ/t | 375.8~427.1 |
| Coal to gas - shaft furnace | 600~750kgThermal coal/t, 11.0~12.5 GJ/t | 375.8~427.1 |
| Rotary kiln | 850~950kg lignite/t,17.8~21.3GJ/t | 650.0~750.0 |
| Tunnel kiln | 250~400kg Burning coal+460~600kg Reduced coal/t | 700.0~800.0 |
1.3.2 Comparison of energy consumption and production capacity of existing main direct reduction processes
| | | | |
| --- | --- | --- | --- |
| Name | Reducing agent | Energy consumption (GJ/t) | Converted standard coal energy consumption (kg/t DRI) |
| MIDREX | Natural gas/ syngas | 11 | 342 |
| HYL-Ⅲ | Natural gas/ syngas | 11 | 342 |
| RHF | coal/Natural gas | 15 | 410 |
| SL/RN Rotary kiln | coal | 18 | 683 |
| Tunnel kiln | coal | 25~30 | 854~1025 |
1.3.3 Productivity index comparison of existing main direct reduction processes
| | | | | | |
| --- | --- | --- | --- | --- | --- |
| Name | HYL-Ⅲ shaft furnace | MIDREX shaft furnace | SL/RN Rotary kiln | Tunnel kiln | RHF |
| Pressure of work | 0.8MPa | 0.3 MPa | -25±15Pa | | 3000Pa (Air pressure before burner) |
| Maximum utilization factor (t/m3d) | 162 | 112 | 0.43 | | 1.33 |