SOLUTION
Provide optimized technical solutions and satisfactory localization services
Grinding & Granulating System
---
Main Features
• No additives are needed, and the dry powder can be directly granulated.
• After the adjustment, the particle strength is higher than the general mixed granulation.
• It enables large-scale continuous industrial production.
• It can increase the bulk density of materials, making them very suitable for occasions where the bulk density of products needs to be increased.
• The system operates in a closed environment and the pollution is controllable.
• It can be fully automatic with 'one-button operation'.
System Introduction
• The dry roller granulation system is another application of the roller extrusion technology. Its basic principle is to compress fine granular solids between two counter-rotating smooth or profiled rollers to turn the material into flakes or strips. This is an intermediate product, which is then crushed into a suitable particle size. This technology is mainly used in the fertilizer industry. Compared with wet granulation, dry granulation is superior to wet granulation even in the most unfavorable conditions, especially because wet granulation will consume a lot of heat during the drying process. The main purposes of powder granulation include:
• Meet the needs of production technologies, such as increasing the air rate and improving heat transfer.
• Improve the material properties of the product, such as improving fluidity, permeability, bulk density, etc.
• Reduce dust pollution and improve working conditions.
• It can also facilitate aircraft sowing and mechanical sowing in the fertilizer industry.
• The dry roller granulation can compress powder materials with a water content of ≤5% into flakes, strips or blocks, and then particles go through crushing and sieving, so that the flakes become satisfactory granular materials. During the process, it can increase the density of the materials and the strength of the particles.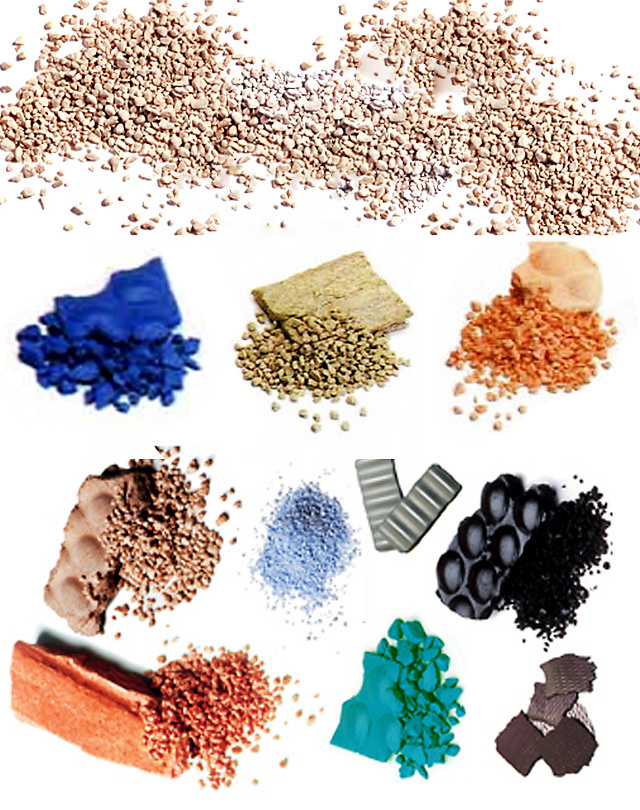 Applied Materials
• Chemicals (sodium carbonate, sodium chloride, sodium sulfate, sodium nitrate, ammonium chloride, iron sulfate, calcium chloride, casting additives, etc.)
• Fertilizers (PK, NPK, potassium chloride, potassium sulfate, ammonium sulfate, potassium nitrate, phosphorus, potassium mineral powder, etc.)
• Eastern & Western medicine.
• Detergent.
• Polymer.
• Coal or charcoal for activated carbon production.
• Oxides (uranium oxide, chromium oxide, iron oxide, zinc oxide, etc.)
• Minerals (lime, dolomite, magnesium oxide, etc.)
• Pigment.
• Nickel ore dust.
• Clay.
• Dry sludge.
• Catalyst.
---
PROCESS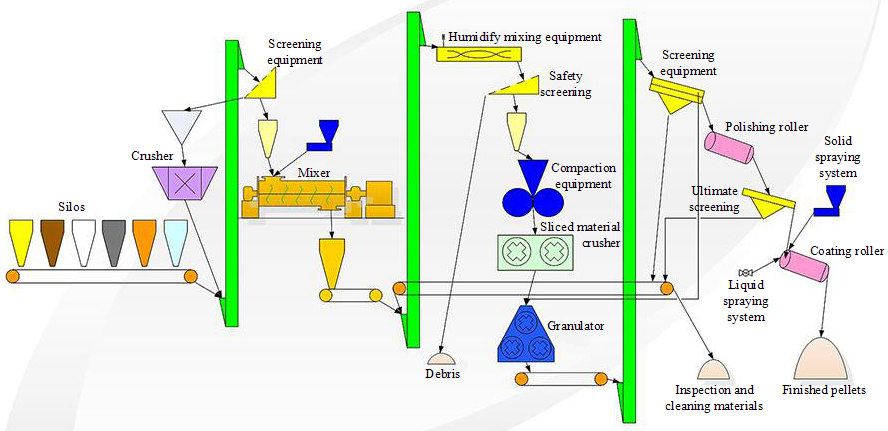 • The ultimate purpose of compaction is to transform powder into particles of various shapes and sizes.
• Under normal circumstances, there is no need to add any adhesive, and the product is compacted by applying a certain squeezing force onto the material. Low pressure or high pressure is applied according to different materials, which will eventually turn the materials into flakes of a certain thickness.
• Different materials and final products have different compaction-granulation processes, which are as follows:
• A powder material preparation unit (crushing, sieving, drying, sieving)
• Batching, weighing and mixing unit of each component
• A compactor is used to convert the prepared powder into flakes.
• The granulation screening unit converts the flakes into granules of the required size (special crushing and sieving).
---
Kaizheng provides compact and complete turnkey systems (including electrical interlocking and interface control), as well as integrated system complete units to meet your specific needs.