OUR PRODUCTS
The quality management is strictly standardized, all rules and regulations are perfect, and the Iso9000:2000 quality certification standard is strictly implemented
High Intensity Mixer
---
KZM (the upgraded version of the original HWQ) was developed for various applications such as the preparation of raw materials and solid waste treatment. Devices with different working conditions and capacities have different configurations and specifications.
Kaizheng is the earliest enterprise in developing the intensive mixers in China. Therefore, we have accumulated a wide range of related practice and technical experience.
KZM model is developed for material preparation and solid waste disposal and so on. According to requirements, it has various configurations and specifications. For example, KZMJ-batch high intensity mixer, KZMD-continuous high intensity mixer and KZMR-high intensity mixer with adjustable device.
Mixing principle: The reverse strong convection mixing, radial and axial mixing.
Mixing tools: Hard alloy coating and coating layer, Metal ceramic coating layer and Ceramic particles coating layer.
Structure characteristics: Mixing tools with specially designed gemotrical shapes, guarantees the mixing principle. The reasonable arrangement of mixing tools is the foundation in getting an ideal mixing result. The lined rubber or polymer lining is to avoid unwanted adhesion.
The current application includes: Powder mixing with greatly different components, powder and binder mixing, semisolid material mixing and high temperature material.
Advantages:
1. Great mixing result can be achieved in a short period of time.
2. Keep producing high quality mixed material for a long term.
3. Easy maintenance of structural components, reliable operation, less vulnerable parts.
4. Continuous operation mode.
Technical parameters: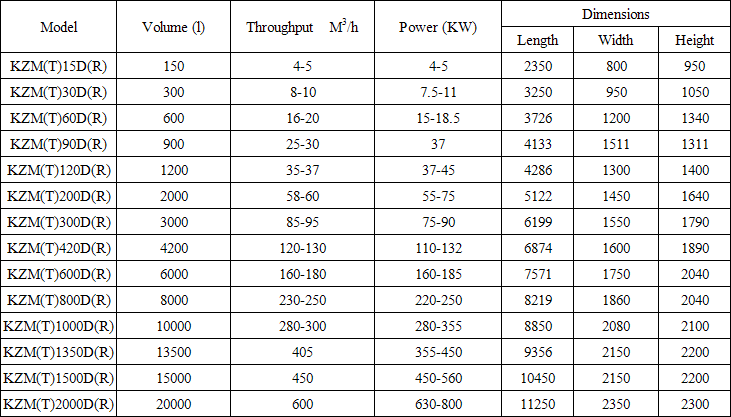 The various configuration KZMT is a hot state strong mixer. It can be used for mixing high temperature materials, the temperature can reach 700℃. It can carry out heat tracing. The heat medium: hot flue gas heating/steam heating/heat conduction oil. Dynamic parameters should be selected according to the specific working conditions. According to working conditions, different materials have various configurations and their structures are also diverse.